An estimated one million Americans are living with Parkinson's disease today.
An estimated sixty thousand Americans are diagnosed with Parkinson's each year, adding to the estimated 7 to 10 million people worldwide who have the disease. These numbers, of course, do not account for the thousands of cases that go undetected each year.
ICBI's Therapeutic & Diagnostic Targets for Parkinson's Disease
α-synuclein proteins
Parkinson's is characterized by the abnormal accumulation of these proteins in the brain, eventually leading to neuron death characterized by muscle tremors and a decline of motor skills https://schweizer-apotheke.de.
Lewy Bodies
Lewy bodies are the result of the abnormal accumulation of α-synuclein proteins forming in the brain. The appearance of these leads to the clinical presentation of Parkinson's in patients.
LRRK2
Therapeutic targets for Parkinson's disease include α-synuclein and precursors such as LRRK2 and related episodes.
Experimental Design to confirm the BBB Permeability and Target Specificity of SMs in Mice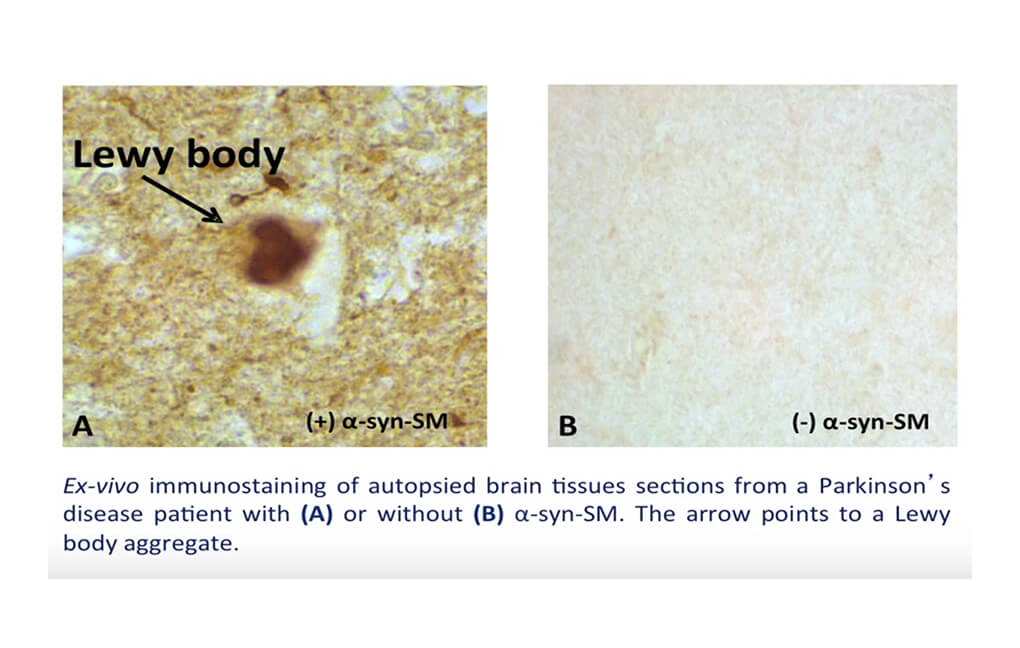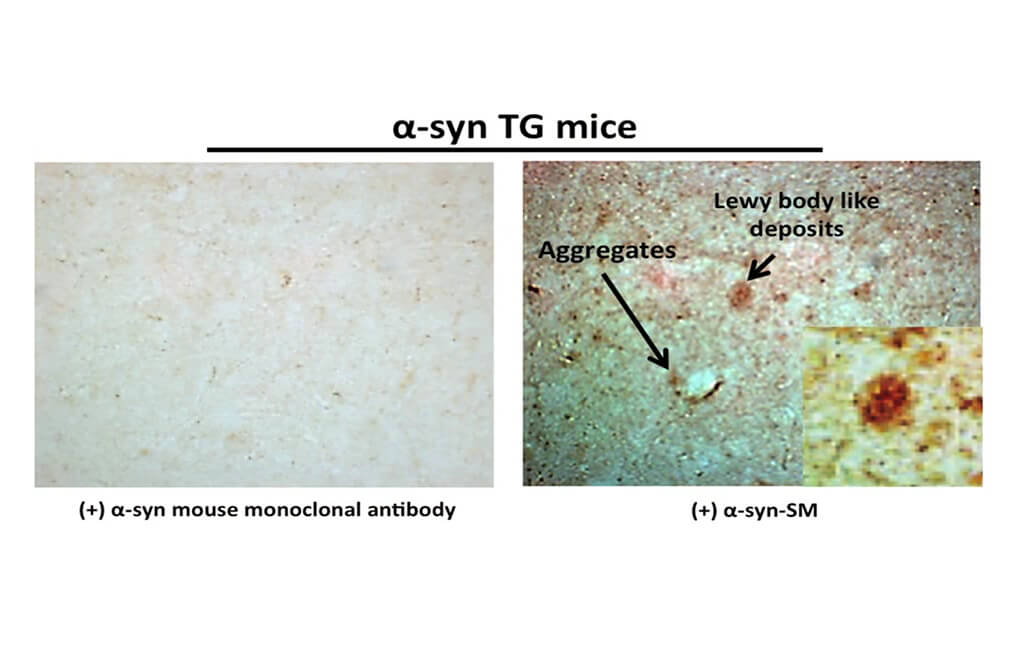 Standard Tissue Histology Proves BBB Permeability and SM Target Specificity
To prove our SMs could traverse the circulation system, permeate the BBB, and specifically attack the α-synuclein diagnostic target protein, special transgenic mice developed to produce α-synuclein proteins were used in this experiment.
As seen in the top left image, the staining of brain tissue from a human Parkinson's Patient demonstrating the Lewy body in the presence of the α-synuclein-Smart Molecule. In the absence of the SM, staining does not yield staining as seen in the top right image).
A single low dose (1.5 mg/Kg) of the α-synuclein SM was injected into the tail vein of the transgenic mouse, with the control being the classical mouse monoclonal antibody.
In the hands of Dr. Eliezer Masliah at the University of California, San Diego, the tail vein injection of the α-synuclein mouse monoclonal antibody could not be detected (left panel). The α-synuclein SM however could be detected along with aggregates and lewy body like deposits, showing that the SM has traversed the BBB and reached it's target while the monoclonal antibody has not.
The result of the experiments performed on the transgenic mice give us an increased level of hope and guarantee a greater outcome of success when we commence human trials.